Shows and Events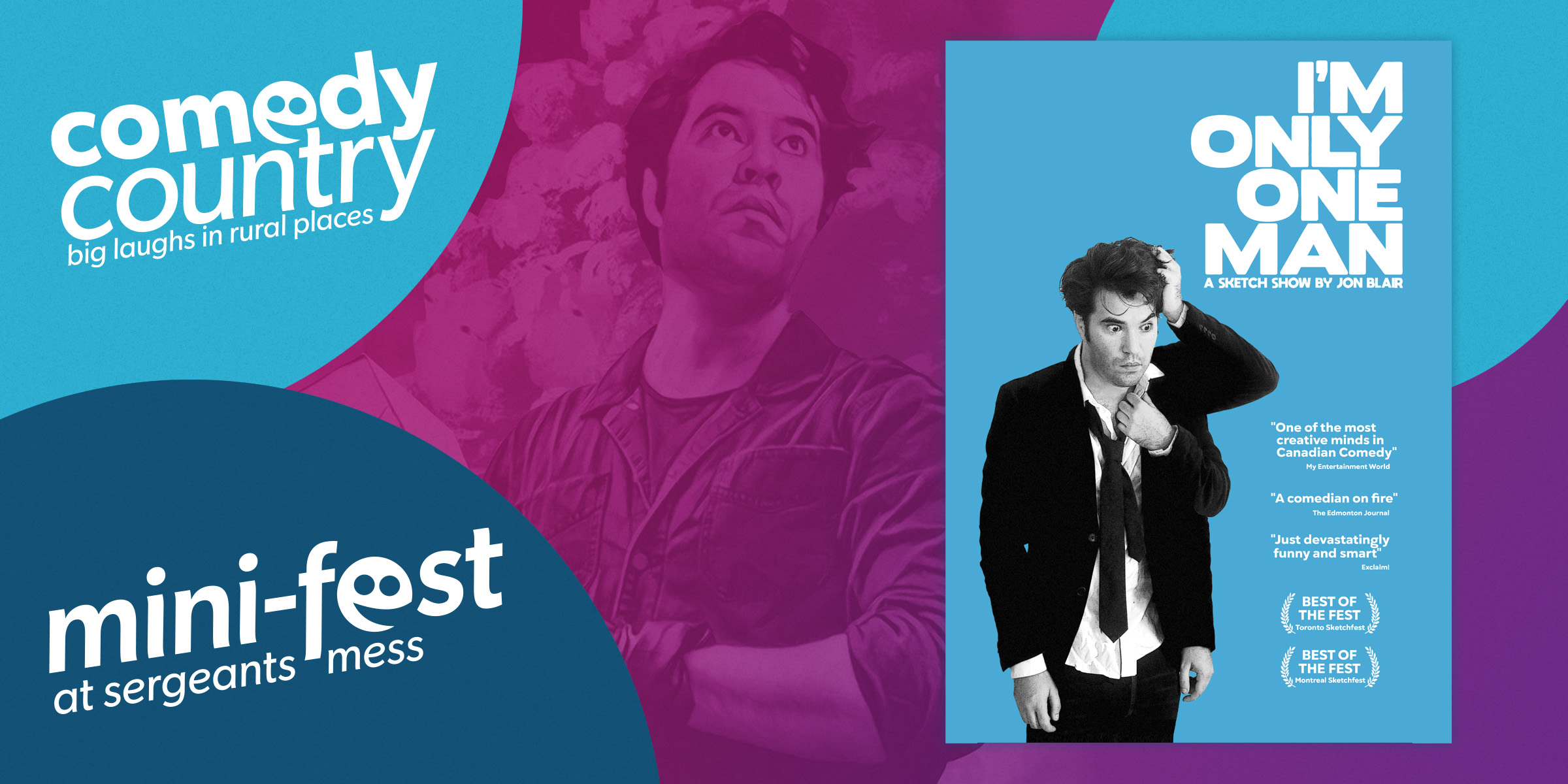 Sergeants Mess Hall – Base31
TOsketchfest 2023's Best of the Fest winner, solo sketch comedian Jon Blair (CBC's Because News, This Hour Has 22 Minutes) packs an entire sketch troupe's worth of comedy into the weary yet determined frame of a single man! In this hour full of eccentric characters, strange storytelling and wild twists and turns, Blair will make you laugh, make you think, and make you say "wow, is this dude alright?"
"Just devastatingly funny and smart" – Exclaim!
Buy Tickets
Big Laughs
in Rural Places
Comedy Country is thrilled to return for our 9th season of merriment in Prince Edward County in 2023.
Mini-Fest at Sergeant's Mess
We're bringing four incredible shows to The County for a mini-fest of Fringey fun Septebmer 27-30th. These are four of our favourite, award-winning hour-long shows live at the new Sergeant's Mess Hall at Base 31. PLUS – you can have them all for one ridiculous price with our Mini-Fest 4-Show Pass!
Bruce McCulloch Regional Tour
Known fondly by fans as "the dark one" from The Kids in the Hall, Bruce McCulloch brings his touching and hilarious Tales of Bravery and Stupidity to Bancroft, Tweed and The Regent.
It's gonna be another laugh-out-loud season with The County's live comedy series, Comedy Country – Big Laughs in Rural Places.
Comedy Country is a special project of the Toronto Sketch Comedy Festival, a non-profit, charitable organization dedicated to promoting and supporting Canadian comedic talent.
Become an insider!
When you subscribe to the Comedy Country E-newsletter, you'll get all the hot goss – news on shows, workshops and big announcements – all delivered straight to your inbox!
Subscribe