Athol Rec Centre
1685 County Rd 10, Cherry Valley, ON K0K 1P0
Taste That
Comedy Country is Prince Edward County's summer comedy series. Come on out to "The County" for some of Canada's funniest stand-up, improv and sketch comedians – all hosted by The County's Artisanal Comedy Troupe: TASTE THAT! Comedy Country runs all summer long with shows each month from April thru August at venues throughout The County and culminates in the Comedy Country Series Finale at The Regent Theatre in September.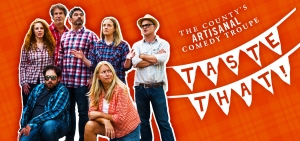 TASTE THAT
Taste That is thrilled to be the host company for the Comedy Country Summer Comedy Series.
The County's Artisanal Comedy Troupe: TASTE THAT! is an accomplished sketch and improv ensemble who have performed at esteemed comedy festivals including Mprov (Montréal improv festival), Big City Improv Festival (Toronto), and have performed with the likes of Scott Thompson (The Kids in they Hall), Steve Patterson (The Debaters) as well as Tom Green (The Tom Green Show) and Gavin Crawford (This Hour has 22 Minutes, Because News). The group is well-known regionally for their semi-monthly shows, and their annual Christmas comedy productions (Christmas in December, It's a Wonderful 'New' Life, The Nightmare After Christmas) that take an irreverent look at life in Prince Edward County.Their shows feature a hilarious mix of improv and scripted comedy including their signature recurring segment, The County Roundup – a local newsdesk that earns bigtime laughs at small town news.
Sponsored by: