Sergeants Mess Hall – Base31
26-343, County Rd 22 Building 26, Picton, ON K0K 2T0
When Tom Hearn overheard a woman tell a straight comedian that she loved when he was on stage because he didn't do "that GAY GARBAGE " … TOM WENT TO WERK.
Gay Garbage is an ode to queernees written and performed by the Canadian Comedy Award Winner and Viral sensation, Tom Hearn. Featuring BITING satire, original characters, impressions, and musical performances that will leave you gagging! After many sold out shows at festivals across Canada, independent productions, and a sold out one-night-only performance in NEW YORK, Gay Garbage has collected numerous honours including Best Live Production, Hit of the Fringe and Hot Ticket honours.
Tom Hearn
TOM HEARN is a multiple award winning sketch comedian, actor, Drag Queen and director living in Toronto. He has toured his 5 star reviewed solo shows "SLANG" & "Gay Garbage " all over North America. Tom is an alumni of the Second City National Touring Company, the creator of 'A Sketch Comedy Extravaganza Eleganza'. Select credits: Montreal, San Francisco, Chicago and Toronto Sketch Comedy festivals, JFL, JFL42, Halifax, Fundy, Edmonton Fringe, Toronto Pride. He has amassed over 450k Followers on social media and over 100 million views on his character videos including his hit impressions of James Corden, Ina Garten and Martha Stewart. Tom can be seen on many Film and Television projects: 'Children Ruin Everything' (CTV), 'Good Sam' (CBS), 'What We Do In The Shadows' (FX), 'The Social' (CTV), 'Making Scents of Love' (Tubi) and coming soon 'Cross' (CBS), 'How to Die Alone' (Hulu), 'SkyMed' (Ctv) and 'Sincerely Christmas' (Hallmark).
Directed by: Carly Heffernan (The Second City)
Written and Performed by: Tom Hearn
Music By: Ayaka Kinugawa & Jordan Armstrong
"Original over-the-top stand-up monologues, hyperbolic sketches, and satirical parodies" — The Buzz
"5 Stars" – Grid City Magazine
"Tom Hearn's work is the next chapter of Queer comedians who have always blazed a trail of mirror ball light into the ugliest of times" — The Interrobang
"Over-the-top triple-threat" — (Sesaya)
"Tom Hearn, whose character impersonations are as funny as they are politically astute." — Raymond Helkio
"Tom brings an energy that has the resemblance of a young Molly Shannon meets Sean Hayes." — Parton and Pearl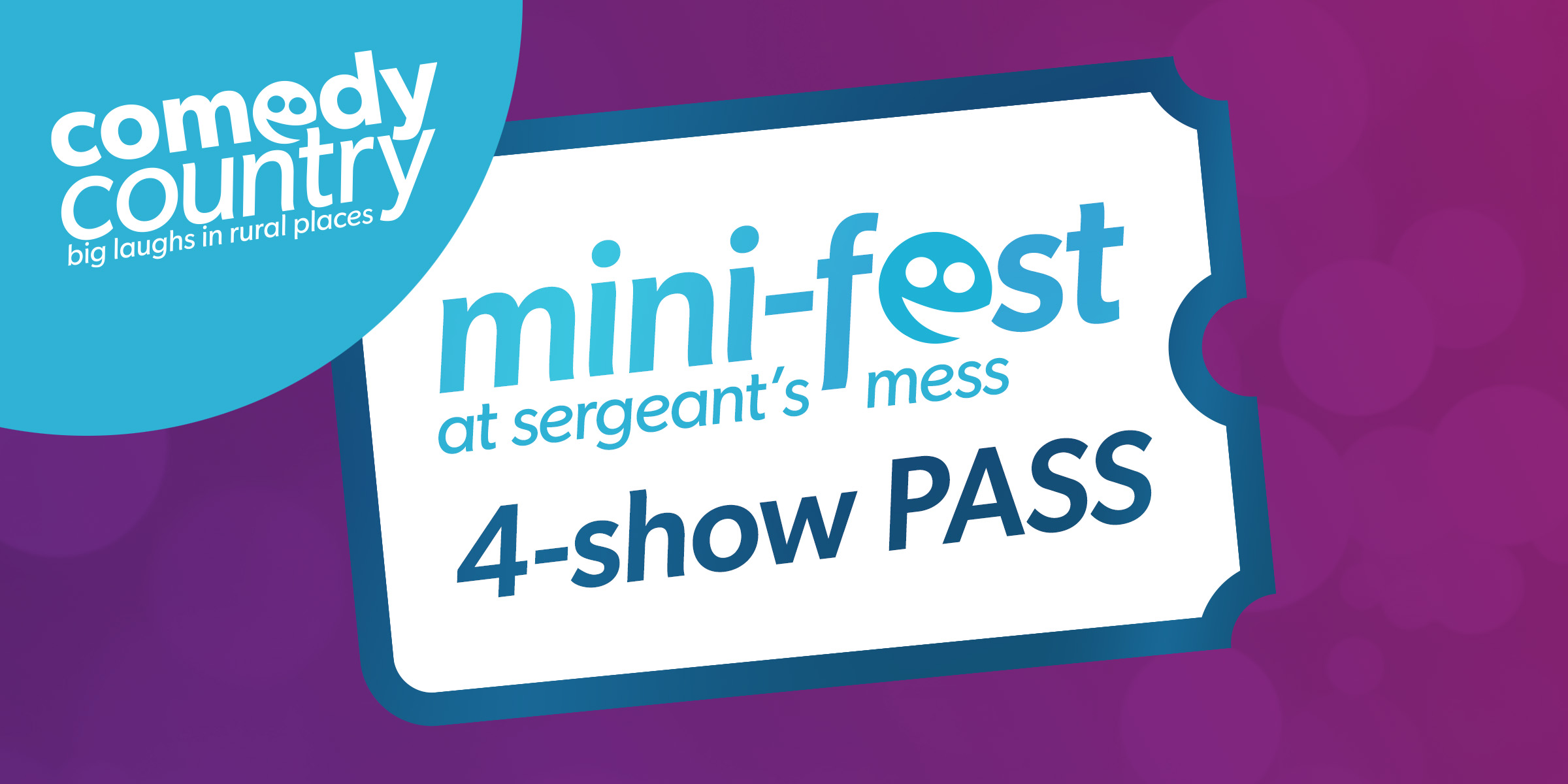 4-SHOW PASS
This show can be seen as part of the Comedy Country Mini-Fest 4-Show Pass! Catch all four Comedy Country shows at the Base31 Sergeants Mess Hall for one incredible price.
Just $60 – Save 40%
BUY PASS NOW
presented by